Medical Grade UV-C LEDs
Why Medical Grade UV-C LED?  NOT ALL UV-Sanitizers are created equal!  It's a scientific fact that light in the UV-C spectrum does destroy the viruses. However, you need the optimal wavelength ( 265nm to 280nm ) combined with correct sanitizing time and output power to make it work. MOST of the cheap Amazon Sanitizers just don't meet this specific demand. So we decided to create something that our own workers can use: U-Safebox. With industry Leading Medical Grade UV-C LEDs at wavelength 265nm to 280nm, we offer you a truly ALL-IN-ON functional sanitizer for everyday needs. No chemicals. No radiation. No Ozone.
Kills 99% of germs in 2 minutes
Why you need the U-Safebox?  Well, the surface of your phones, keys, credit cards, or glasses or almost any daily carries is infested by germs and viruses.  In normal times, you don't need to pay attention at all. But in the tough times of a pandemic, you want to reduce the chance of contact with viruses as much as you can. Thus, it's a Necessity to sanitize the surface and kill all possible harmful germs and viruses as FAST as possible, once you or your family members are back home from work or a short trip.  U-Safebox 120 seconds automatic sanitation process kills 99.9% of bacteria and viruses including the E. coli, S.aureus, Candida Albicans, and many more.  Compared with our competitors, Team Shuttercase offers PREMIUM QUALITY with MUCH LOWER PRICE. 
Make-up Mirror
Any extra goodies? Yes! The box lid could be used as an independent make-up mirror made of anti-scratch tempered glass. Some extra goodies for girls. Simple and Sweet : )
10W Wireless Charging Pad inside the Mirror
Want something more for what you pay?  Imbedded in the box lid is a powerful 10W wireless charger that charges any Qi-integrated smartphones. We use a smart IC inside to automatically recognize your device and output optimal voltage for different phones. Put your phone on top of the box lid and it will be charged automatically.
Large Space for All Your Daily Carries
We make sure that you can put phones of the largest sizes inside, including Samsung Note 10,  iPhone 11 Pro Max.  Imagine this: when you are back home, you take out your phones, keys, glasses and put them in the U-Safebox ( connected to power by USB cable first); press the power button for 3 seconds to activate it. After 120 seconds, all your stuff has been through a thorough sanitizing UV-C bath. Then, take out your phone and put it on top of the box lid. You are wirelessly charging the phone automatically. Handy?
Specs
Included in the packing: U-Safe Box; USB cable; Manual; USB Adapter NOT included
Box Size: 185*100*47mm ( 7.28*3.93*1.85 inches ). Large enough to put inside any the phones on the market including iPhone 11 Pro Max or SAMSUNG Note 10.
UV-C Wave Length: 265nm to 280nm
Wireless Charging Power: 10W/7.5W/5W automatic switch according to different smartphone models for optimal charging. Supports any Qi-integrated phone.
Weight: 0.67 Ibs
Safety and Warranty
Don't expose your eyes or skin directly to the light source.
U-Safe box contains an automatic safety switch that protects the users from accidental direct contact with the UV-C light. In case the UV-C light lid is removed by accident from the box during sanitization, the safety switch will automatically cut off the UV-C light if the lid angle is more than 15°-- so you can't remove the lid and flip it upside down to look at the light source.
30 Days Free Return + 1 Year Warranty
Shipment and Delivery
Stocks Ready in New Jersey | Free Shipping by USPS to US/UK/Germany
Delivery time: due to the CONVID influence, we might be a little bit slower than the normal times. If you are in the US/UK/Germany, you will be able to receive your package at around 7 to 10 days.  For the rest of the world, generally, it takes around three weeks. You will receive package delivery updates by email from time to time, and you'll be able to track your order by USPS online from the link we share in the email. Rest Assured : )
For retail partnerships or corporate purchases, please contact sales@shuttercase.com 
Customer Reviews
06/19/2020
Kyle C.
United States
U-Safe: Works Well
Here's one thing I learned: look at the instructions. I assumed there was a hinge on the box lid (there's not) and my first lid went tumbling to the floor in a splatter or mirror shards. The lid is press-fit, so don't be like me: look at the instructions and lift the lid off like you should! The wireless charging works like a charm, and the lid has a kickstand for using the mirror. The UV function works, but one note I'd take in general for UV boxes is to be cautious. Place the box in a safe location before activating, make sure no one opens it (or goes near it, if you want to be extra safe) and definitely don't look at the light it produces. UV light can be dangerous, so take precautions when using this or any other UV cleaning box, and use it safely. Follow those tips, and you'll have a pretty functional bit of kit for a very reasonable price.
Hey Kyle, Thanks for the sweet sharing ! Yes the lid was not hinged on to the box lid because we designed it to function also a removable make-up mirror. You can stand it on desk as an independent mirror... And as you mentioned, UV-C light is not supposed to be in direct contact with eyes ( don't look at the light ) so we have a safety switch built-in which will automatically cut off the UV-C light if the lid angle is more than 15° ( so if someone grabs the lid and flips it to stare at the light source on the bottom, it light would have been turned off once he does that ). BR Kate
06/18/2020
Chris C.
United States
Excellent Device sanitizer
My experience for last 10 days has been great with product it's very fast sanitizing everything my keys to my AirPods and cellphone excellent  Wireless charging. I have only one complaint with design is that there's need to be a notch or something on the side of lid it's very hard to open but other than that it's excellent sanitizer/ charger Thanks
Thank you for the feedback Kris! There lid is designed to be make up mirror for mirror also for girls so we are not adding anything extra there on the side .. you could actually easily pull it up by holding two sides:)
KO
06/16/2020
KEVIN O.
United States
Safety matters now more than ever
I bought this first and foremost to support Shuttercase. I've been using their iPhone X case with Moment lenses for over a year now. I love the design, overall practicality, and supreme functionality of their Shuttercases. Also, I had some problems early on with my first Shuttercase, and their customer service was awesome to work with and got me replacements/redesigned lens mounts with no hassle! To be honest, I've never given "UV sterilization boxes" much thought... not even during this 1st wave of COVID-19 outbreak. They're just not something that appeared on my radar or that I thought of as necessary for the safety of myself and others. But when Shuttercase announced that they were introducing a new product (i.e., the U-Safe Box), I began to take a serious look at UV sterilization boxes... and because Shuttercase has earned my trust, I decided to buy their U-Safe Box. The U-Safe Box has made me re-examine and think about all of the smaller items that I use on a daily basis that could come into contact with potentially unsafe or infected surfaces. They say that the best protection is to wash your hands for at least 20 seconds... but what about all of the things in your pocket(s), bag, or purse that you touch before you make it to a sink? What about the debit card you put into the chip reader four times today? The credit card that you handed over to someone else (so that can swipe it using their machine)? Putting on / taking off your sunglasses? Taking out your wallet? Touching / holding your phone? And then grabbing a pen from your book bag to fill something out? When I start to think about all of these items (and more), I quickly began to see the value, importance and necessity of owning the U-Safe Box.
06/15/2020
Darrin A.
United States
Clean!
Loving my new U-Safe Box. I really like knowing I can effectively sanitize my phone and eyeglasses especially. No problem at all placing my large iPhone 11 Pro Max in its case in the box. The U-Safe Box is a nice looking addition to my desk, really like the clean look of it. Very happy with my purchase. Thank you Shuttercase!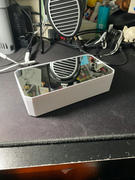 06/12/2020
Yuichi S.
United States
Excellent (with two and a half suggestions)
This is an excellent product. I have two (and a half) suggestions, based on my use of this product for sanitizing my mask when I get back to my car: It would be great if the lid is hinged, so it stays with the body when I open it; and (2) if would be great if the indicator light is brighter, because during the day, when the sun is out, it is nearly impossible to tell if the UV lamp is on inside, and I would really not want to open it while it is still on, so as not to hurt my eyes. Finally, the "half" part: It would be great if there is a way to test if the UV lamp is in fact "killing" virus particles. I suppose this may require taking a culture and culturing it, which would require a microbiology lab. But I wonder if there could be a home testing kit to see what % of bacteria are still alive after being exposed to UV in this device, and what % of virus particles are still viable for infection.
Thank you for these valueable feedbacks Yuichi! 1) The lid is designed to be a removable component in case anyone wants to hold it and use it as a portable santinizer. This is possible, although not the best way to use it becuase you need to connect the lid to a power bank that way. So we keep this function but we don't advertise it. 2) For the indicator, yes you are absolutely reasonable ! We will feedback to our engineers and work on improvements. 3) For the actual effect, we use the 265nm to 280nm UV-C LEDs and we have test lab results. We will publish it soon here. Thank you ! BR Kate Ölveborn on behalf of Team Shuttercase